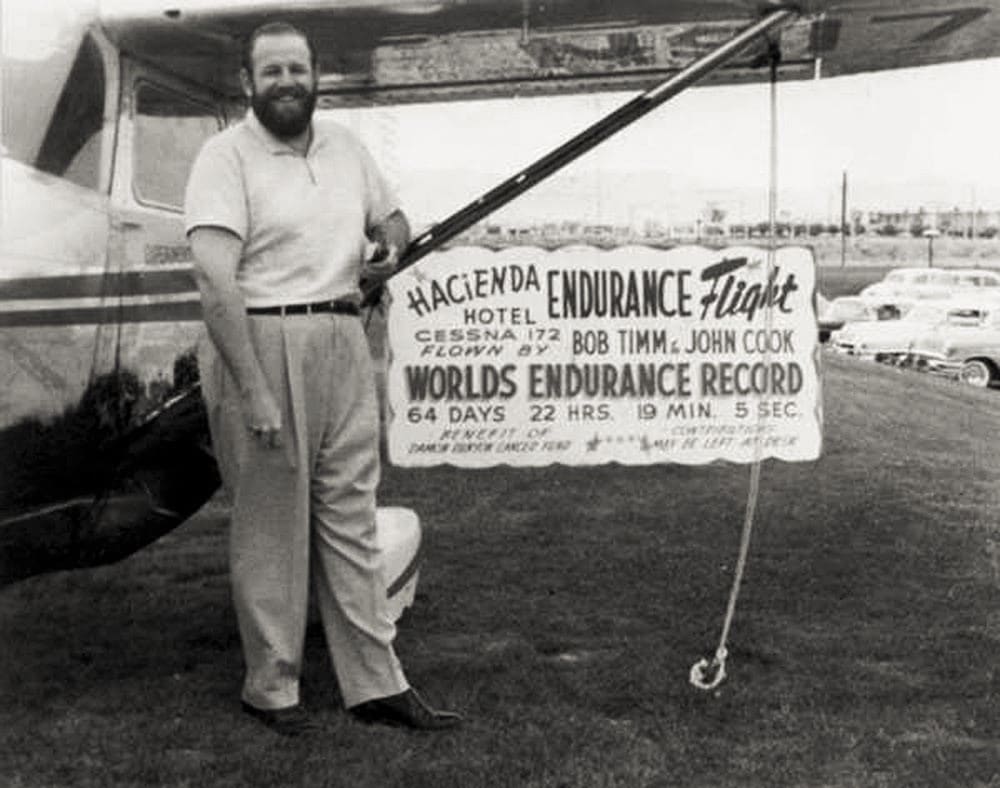 In 1950's was a time of record setting. Aviators all around the world were trying to beat records in such a pace that it was becoming an obsession. But one flight killed it all. One flight end the record setting madness. The record made by Cessna 172 bearing the tail number N91272B made a world record 50 years ago that still remain unbroken.
The story of how Bob Timm and John Cook flew for 64 days, 22 hours and 19 minutes is entertaining.
It was a marketing escapade hoisted by a hotel in Las Vegas called The Hacienda Hotel. It took mechanic Bob Timm, who was also a pilot, one year to modify N91272B.
Modifications include a bottom tank for more fuel storage, a small platform instead of co-pilots cabin, a sink (yup! a small stainless sink to shave) and modifications for the engine. They had it fitted with electric motor for fueling purpose and for the engine oil.
The plane took on December 4, 1958 from McCarran Field in Las Vegas. They had special permission from FAA to extend the maximum take off weight for the extra modifications.
The plane was fueled twice a day in broad daylight. There were events were it had to be fueled in the night time also.
Two pilots would read comic books, did exercises, and made up games such as " guess how many cars we will pass in the next hour," as well as performing the daily tasks of fueling, eating and maintaining communications with the support and ground staff. Food, water for washing, towels, oils and other supplies were passed up from the ground.
They would fly most hours over southwestern deserts in the Blythe, California, and Yuma, Arizona, areas but would occasionally fly as far west as Van Nuys and Los Angeles to garner radio and TV publicity.
They finally landed the aircraft on February 7, 1959.
Today the aircraft is kept in display at Las Vegas McCarran International Airport.
P.S. I apologize for not posting on Saturday as per schedule. I was travelling.